"A Moment in Her Story" is an honest, complex exploration of some of the major challenges faced by those active in the Second Wave women's movement of the late 60s and early 70s. With humor and sensitivity, Russo brings that rare lens to the conflicts experienced by women coming from different race and class backgrounds. Younger feminists will learn much from these inspiring stories of earlier community activists who worked together to push for greater justice and equality for women."
A Provincetown Herstory 5 min from Catherine Russo on Vimeo.
Judy Norsigian, Executive Director, Our Bodies Ourselves, Cambridge, MA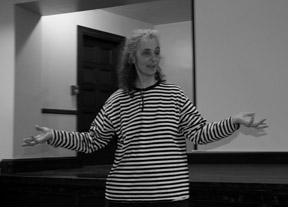 Catherine Russo speaks to the audience after her film screening in March 2013
"The world wants simple stories. Catherine Russo's A Moment in Her Story shows instead how movements are messy, living things. The film documents how Boston area feminists worked together and bridged the gaps across race and class lines, even as they struggled with these inequalities in and outside the movement--not the expected story."
Carol Quirke, Associate Professor, SUNY Old Westbury
"This film is key for classroom use, illustrating the early history of the modern Women's Movement and showing the contributions of working class women and women of color who are too often left out of the picture."

Associate Professor
Media Studies Area Coordinator, Ph.D. Program School of Communication
& Information Rutgers University